Solid Hardwood Flooring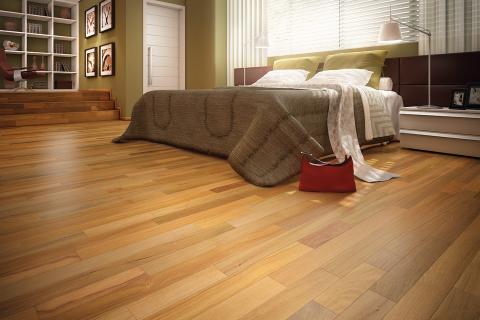 How Solid Are Solid Hardwood Floors?
Solid hardwood flooring is 100% hardwood milled from lumber. As a natural material, hardwood reacts to changes in its setting, like moisture and extreme temperatures, which cause solid wood to shrink or expand. All solid hardwood can be sanded and refinished if needed over the years. Solid hardwood is not recommended for installation below ground level or in bathrooms.
Whole Wood specializes in providing both SOLID and ENGINEERED wood floors in the San Francisco Bay Area, from San Jose to San Francisco to Marin and beyond.
Solid Hardwood Flooring versus Engineered Hardwood Flooring
What is the difference between SOLID hardwood flooring and ENGINEERED hardwood flooring?
SOLID flooring is 100% whole wood and typically 5/8" to 3/4" thick. Solid floors can be sanded and refinished many times, while engineered floors can only be sanded and refinished 1 or 2 times.
Why? Because ENGINEERED wood floors are actually a layer (veneer) of real wood glued to layers of wood underneath (usually plywood.) The advantages of ENGINEERED include providing excellent stability over the years and can be installed in below-grade basements, which is not recommended for SOLID hardwood flooring.
Which Species OF Wood Are Best for Solid Hardwood Floors?
The optimal SOLID hardwoods are made from the hardest of hardwoods such as Oak, Maple, and Cherry. Bamboo is also very hard too even though it's technically a grass, not a tree.
Other double-solid hardwood choices include Walnut, Ash, and Solid Mahogany.
PREMIUM SOLID hardwood floors are made from more exotic species such as Teak, Jarrah, and Mesquite. Whole Wood is proud to offer many of these premium hard hardwoods in both solid and engineered formats.
Global Exotics Solid Brazilian Cherry Natural

Santos Mahogany Solid 4-3/4″

Contact for current price!

Pacific Mahogany (Burma Mahogany) Solid 3-1/2″

Brazilian Tiger Mahogany (Curupay) Solid 3-1/2″

Malaccan Cherry Solid 3-1/2

Cumaru (Brazilian Teak) Solid 3-1/2″

Indusparquet Santos Mahogany Solid 2-5/8″

Chocolate Truffles Maple, Sanctuary 5″ Collection

Fire Light Maple, Sanctuary 5″ Collection

French Champagne Maple, Sanctuary 5″ Collection

Chocolate Truffles Maple, Sanctuary RW Collection

Fire Light Maple, Sanctuary RW Collection

French Champagne Maple, Sanctuary RW Collection

Contact us TODAY for price!

Solid Carbonized Horizontal