Engineered Hardwood Flooring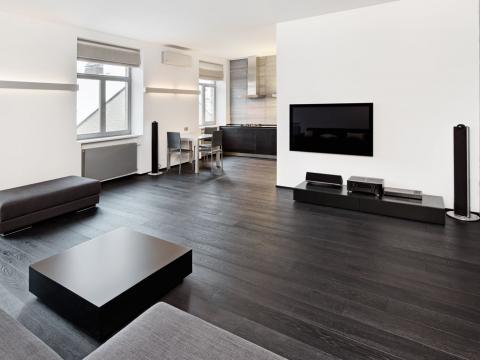 Engineered Hardwood Flooring Means Superior Stability
Engineered Hardwood Flooring is built up of layers of wood. It consists of three to ten layers -- called plies -- that are glued together. This multi-ply structure gives engineered wood superior stability, greater than solid wood, which reduces concerns associated with shrinking and expanding when temperature and humidity change.
Our engineered flooring can be installed below ground level making it a great choice for finished basements.
How To Shop for ENGINEERED Hardwood Flooring
Unlike SOLID hardwood flooring which is 100% hardwood, ENGINEERED is layered and can range from 3-ply to 9-ply and beyond. With engineered hardwood floors, the more layers the better.
To check for quality, check the thickness of the "wear" layer and the number of finish coats. Good engineered floors have 1-2 mm wear layer and 5 finish coats... these will come with a 10-15 year warranty.
A better ENGINEERED flooring style would be 5-ply and 2-3 mm wear layer -- these will typically have 15-25 year warranties.
The best ENGINEERED flooring options are 7-9 ply layers and 3+ mm wear layer -- these will warranty for 25 plus years.
Can ENGINEERED Hardwood Flooring Be Refinished?
Yes it can, but only once or twice depending on how thick your wear layer is. A 3 mm thick wear layer can handle 2 re-finishings. You can sand down the top later to erase scratches and dents.
Best Prices and Selection of ENGINEERED Hardwood Flooring in the San Francisco Bay Area
Whole Wood really does offer the best selection of ENGINEERED hardwood flooring in the San Jose / San Francisco Bay Area. Below is just a fleeting glimpse of what we have in our massive WAREHOUSE / SHOWROOM:
Contact for current price!

Contact for current price!

Contact for current price!

Contact for current price!

Contact for current price!

California Dreamin' Nautilus Maple

California Dreamin' Marina Maple

California Dreamin' Oceanside Maple

California Dreamin' Sea Wall Maple

Smooth Sailin' Nautilus Maple

Smooth Sailin' Marina Maple

Contact for current price!

Smooth Sailin' Beacon Maple

Smooth Sailin' Oceanside Maple

Flickering Flames Maple, Crossfire Collection

Midnight Embers Maple, Crossfire Collection

Tinder Maple, Crossfire Collection

Afterglow Maple, Crossfire Collection