Engineered Hardwood Flooring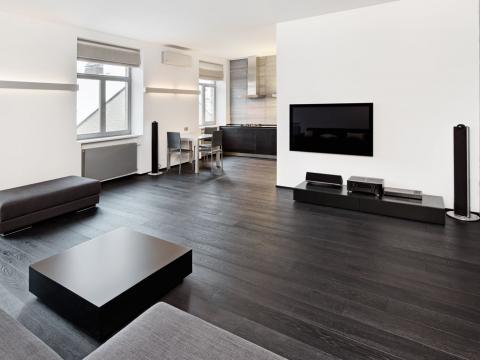 Engineered Hardwood Flooring Means Superior Stability
Engineered Hardwood Flooring comprises multiple layers of wood, typically ranging from three to ten plies, which are bonded together. This multi-layered construction imparts exceptional stability to engineered wood, surpassing that of solid wood and minimizing concerns related to contraction and expansion due to temperature and humidity fluctuations.
Ideal for below-ground-level installations, our engineered flooring is an excellent choice for transforming finished basements into inviting, functional spaces.
Popular Wood Species for Engineered Hardwood Flooring
Finding The Best Engineered Wood Floors
Unlike SOLID hardwood flooring which is 100% hardwood, ENGINEERED is layered and can range from 3-ply to 9-ply and beyond. With engineered hardwood floors, the more layers the better.
How Thick Is Engineered Hardwood Flooring? Key to look for:
1-2 mm wear layer and 5 finish coats usually gets a 10-15 year warranty.
Engineered 5-ply with 2-3 mm wear layer have 15-25 year warranties.
The best flooring option is 7-9 pl layers with 3+ mm wear layer which warranty for 25+ years!
To check for quality, check the thickness of the "wear" layer and the number of finish coats. Good engineered floors have 1-2 mm wear layer and 5 finish coats... these will come with a 10-15 year warranty.
A better engineered style would be 5-ply and 2-3 mm wear layer -- these will typically have 15-25 year warranties.
The best engineered hardwood flooring options are 7-9 ply layers and 3+ mm wear layer -- these will warranty for 25 plus years.
Can Engineered Floors Be Refinished?
Yes they can get refinished! But.. only once or twice depending on how thick your wear layer is. As a general guideline, a 3 mm thick wear layer can handle 2 re-finishings. You can sand down the top later to erase scratches and dents.
We Offer The Best Prices and Selection of ENGINEERED Hardwood Flooring styles in the San Francisco Bay Area
Whole Wood really does provide the best selection of engineered flooring from Marin to San Jose, from East Bay to Far West. Come visit our gigantic showroom + warehouse and see for yourself, or enjoy this tiny taste of beautiful engineered styles at Whole Wood:
Contact for current price!

Contact for current price!

Contact for current price!

Contact for current price!

California Dreamin' Nautilus Maple

California Dreamin' Marina Maple

California Dreamin' Oceanside Maple

California Dreamin' Sea Wall Maple

Smooth Sailin' Nautilus Maple

Smooth Sailin' Marina Maple

Contact for current price!

Smooth Sailin' Beacon Maple

Smooth Sailin' Oceanside Maple

Flickering Flames Maple, Crossfire Collection

Midnight Embers Maple, Crossfire Collection

Tinder Maple, Crossfire Collection

Afterglow Maple, Crossfire Collection