Unfinished Hardwood Flooring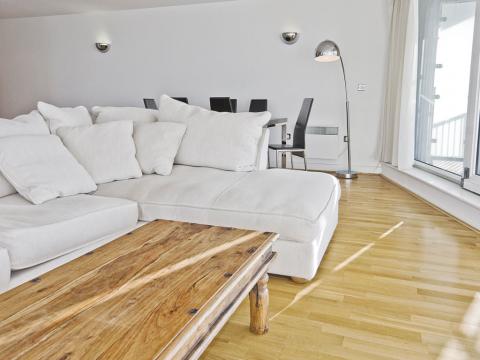 Unfinished Hardwood Flooring is Flooring That Requires Sanding and Finishing On-site After Installation Is Complete
This type of solid hardwood flooring is typically 3/4" in thickness, tongue and grooved with end-matching, and available widths range from 2-1/4" to 5" wide. Plank flooring wider than 5" is available, but ordinarily on a special order basis.
Unfinished hardwood flooring is usually a square-edged product with some exceptions. Board lengths on manufactured flooring will range from 12" up to 78" on a random length basis. Long length flooring is available on a special order basis. Unfinished hardwood flooring must be stapled or nailed over an approved plywood sub-floor and must be installed on or above grade (1st floor or second floor, no basement).
Grades of Unfinished Hardwood Flooring
Clear / 1st Grade*
Clear or 1st grade flooring refers to the cleanest grade of flooring, containing the least amount of color variation and no knots. Board lengths can vary from 12" to 78" but generally have a longer average length, usually around 3' long.
Select & Better / 2nd Grade*
Select & Better or 2nd grade flooring refers to flooring that has more color variation and can contain some small pin knots. 2nd grade also allows for some sticker stain (stain left as a result of stacking boards during the drying process). Board lengths can vary from 12" to 78" but generally have a medium average length of 2.5' long.
Natural / 3rd Grade*
3rd Grade flooring can be referred to as #1 or #2 Common and generally describes flooring with a full range of color which include mineral streaks, sticker stain (stain left as a result of stacking boards during the drying process), and solid knots of varying size. Board lengths can vary from 12" to 78" but have a shorter average length, usually around 2' in length.
Scenarios for Installing Unfinished Hardwood Flooring
Installing unfinished hardwood flooring involves laying down hardwood planks that haven't been sanded, stained, or sealed. After installation, these activities are carried out on-site to provide a smooth and consistent finish. The process offers a unique set of benefits as compared to installing prefinished hardwood flooring. Here are some scenarios where unfinished hardwood flooring is a good fit:
Customization: If you're looking for a specific color, texture, or finish that is not available in prefinished options, unfinished hardwood allows for maximum customization.
Matching Existing Flooring: If you already have hardwood floors and need to extend the flooring into other rooms, unfinished hardwood is easier to match with your existing setup.
Historic Renovations: For those restoring older homes where the flooring needs to be in line with a specific period or style, unfinished hardwood can be customized to match the aesthetic.
Uneven Surfaces: Unfinished flooring can be sanded down after installation to even out any inconsistencies, making it a good option for rooms that may not be perfectly level.
Large Spaces: For large open areas, installing unfinished hardwood flooring can ensure a more uniform finish across the surface.
Specialized Designs: If your project involves intricate inlays or borders, unfinished hardwood provides the flexibility for these custom designs.
Advantages of Installing Unfinished Hardwood Floors
Uniform Finish: Sanding and finishing the floor after installation provides a seamless, uniform look, without bevels that prefinished boards usually have.
Color Consistency: Staining the floor on-site ensures that the color is consistent throughout, something that can be hard to achieve with prefinished boards that may vary slightly in hue.
Easier Repairs: Future repairs are often easier and less noticeable with unfinished hardwood since you can sand down and refinish the affected area more seamlessly.
Less Risk of Defects: Any minor imperfections can be sanded out after installation, reducing the risks associated with factory defects that might occur in prefinished flooring.
Custom Finishes: From matte to glossy, you have complete control over the finish, and you can also mix stains to get a customized color that perfectly matches your décor.
Longevity: Since they can be sanded down and refinished more times than prefinished floors, unfinished hardwood floors often have a longer lifespan.
Cost-Effective: While the initial cost might be comparable, the ability to repair and refinish unfinished floors more easily can make them more cost-effective in the long run.