Preverco Wood Flooring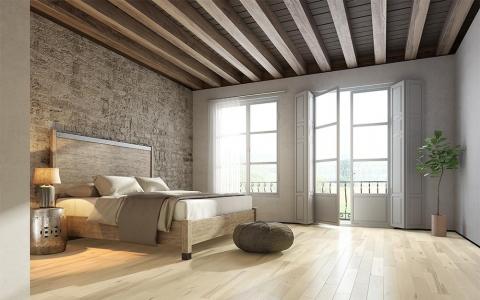 Whole Wood is proud to sell Preverco's unique and distinctive floors. 100% made in Canada, Preverco has great styles from rustic to elegant to ultra-contemporary.
What is special and unique about Preverco Hardwood Flooring?
Preverco Hardwood Flooring is known for its superior craftsmanship and unique collection of high-quality hardwood flooring products. Their range of options is vast, and their products are designed to be both durable and stylish. They carry a wide range of plank and strip hardwoods, including maple, oak, hickory, and cherry, and are committed to using responsible forestry practices during the harvest of their materials. They also use high-tech finishing techniques, and add color and texture to each floor to enhance its natural beauty.
Preverco's wood species include:
Red Oak

Recognized for its hardness and shock resistance and exudes elegance with its unique coarse grain, and its spectacular pattern.

Hard Maple

Majestic and versatile, Hard Maple offers excellent manufacturing properties as it features a closed and uniform grain and its growth rings remain fairly visible.

Yellow Birch

These natural colors lend it unique charm. Yellow birch has a grain that is similar to maple and is highly sought after in furniture and flooring.

Ash

With its exceptional hardness, Ash boasts superior characteristics compared to other hardwood species. It is straight-grained with highly visible annual growth rings.

Walnut

This species can be treated to achieve a specific and unique character. Walnut has a fine, mostly straight grain that sometimes displays attractive and decorative figures.

Hickory

A natural beauty from the forests of North America and also known as Pecan, Hickory is particularly strong, durable, and stiff.

White Oak

Stands out for its resistance and beauty. Its annual growth rings produce a cathedral pattern, which is highly prized by architects and designers alike.

Rift and Quarter White Oak

White oak stands out for its resistance and beauty. The radial cut brings out the linear appearance of the wood grain and creates a streamlined, trendy decor. Preverco uses lumber cut using the modern quarter-sawing method (also referred as true quarter-sawn), resulting in a mix of quarter-sawn and rift sawn boards (rift & quarter).

Sapele

Originally from tropical Africa, Sapele is similar to Mahogany. Its color stays rich over time and is great for flooring.
THEY HAVE A GREAT ONLINE TOOL for showing what hardwood flooring styles will look like in your room!!
Visit http://www.preverco.com/en and click the button "See this floor in my room". You will need a picture ready to upload that shows your floorspace now. Then, see what your room will look like with different Preverco flooring styles!