Preverco Wood Flooring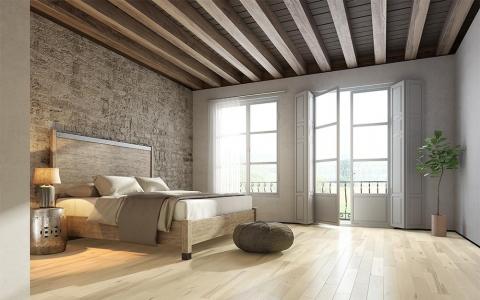 Whole Wood is proud to sell Preverco's unique and distinctive floors. 100% made in Canada, Preverco has great styles from rustic to elegant to ultra-contemporary.
Preverco's wood species include:
Red Oak - recognized for its hardness and shock resistance and exudes elegance with its unique coarse grain, and its spectacular pattern.
Hard Maple - Majestic and versatile, Hard Maple offers excellent manufacturing properties as it features a closed and uniform grain and its growth rings remain fairly visible.
Yellow Birch - These natural colors lend it unique charm. Yellow birch has a grain that is similar to maple and is highly sought after in furniture and flooring.
Ash - With its exceptional hardness, Ash boasts superior characteristics compared to other hardwood species. It is straight-grained with highly visible annual growth rings.
Walnut - This species can be treated to achieve a specific and unique character. Walnut has a fine, mostly straight grain that sometimes displays attractive and decorative figures.
Hickory - A natural beauty from the forests of North America and also known as Pecan, Hickory is particularly strong, durable, and stiff.
White Oak - Stands out for its resistance and beauty. Its annual growth rings produce a cathedral pattern, which is highly prized by architects and designers alike.
Rift and Quarter White Oak - White oak stands out for its resistance and beauty. The radial cut brings out the linear appearance of the wood grain and creates a streamlined, trendy decor. Preverco uses lumber cut using the modern quarter-sawing method (also referred as true quarter-sawn), resulting in a mix of quarter-sawn and rift sawn boards (rift & quarter).
Sapele - Originally from tropical Africa, Sapele is similar to Mahogany. Its color stays rich over time and is great for flooring.
THEY HAVE A GREAT ONLINE TOOL for showing what hardwood flooring styles will look like in your room!!
Visit http://www.preverco.com/en and click the button "See this floor in my room". You will need a picture ready to upload that shows your floorspace now. Then, see what your room will look like with different Preverco flooring styles!